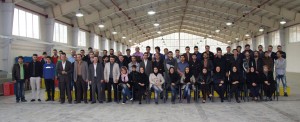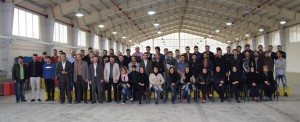 عکس بالا: جمعی از کارکنان چاپ اندیشه آمل در سالن شماره ۲ که برای نصب خط جدید ساخته شد ولی به دلیل عدم تحویل دستگاه هنوز راه‌اندازی نشده
است.
عکس پایین: دستگاه چاپ پنج رنگ عرض ۱۴۵ سانت که هرگز تحویل داده نشد.
IN THE NAME OF GOD
To: KBA company,
Kind Att.: Mr. ِDietmar Heyduck
Vice President Sales
Based on trust to an international well known brand and its official representative, a contract was signed on May 11th 2012, which three years passed and the fourth year is coming soon.
The contract for VLF printing press with Euro 2,550,000 could be considered as an important happened with benefits to all parties as well as our customers, if the contract had performed
On the other hand and based on the KBA contract, regardless what mentioned for payment terms to KBA, Andisheh Gostar Amol and Noortec, KBA official representative in Iran, singed a local contract to protect what had promised by Noortec Co to support us as follow:
-Financing and installment payment equal to 50% of the contract's amount within 3 years
-Free of charge KODAK VLF plate setter system
-Free of charge consumables for one year
-Training for 7 operators at KBA factory
-۱۸ months guarantee of the printing machine after installation date
-Supplying of parts for one year as FOC
-Supplying of 5 tons ink, 2 tons varnish, 5 sets of blanket as FOC
According to Noortec's credit with KBA, which mentioned by Mr. Alirezaei in the contract signing meeting, as well as payment terms agreed in the local contract by Andisheh Co, KBA could receive required advanced payment.
As per terms & condition of the local contract, total paid amount to Noortec was equal to Euro 850,000.00.
Based on KBA sales Dept. sent email and production Dept confirmation, the printing machine mentioned in both KBA and Noortec contracts is in manufacturing process and will be delivered at the contract schedule and before end of Jan 2013, Noortec informed us on Sept 23rd 2012 by an official letter 15 days after receiving advance payment. However we have not seen KBA email.
This letter was what we had expected, as due to previous Noortec's commitments to support Andisheh Co, everything was on schedule, and shown that KBA had received expected advance payment to start manufacturing.
By this letter, we started to construct installation site with 2100 sqm area. During visit this site by Mr. Falk and Mr. Alirezaei, Mr. Falk said that the site is good enough even for installing Rapida205.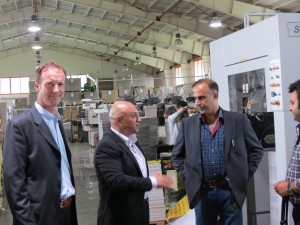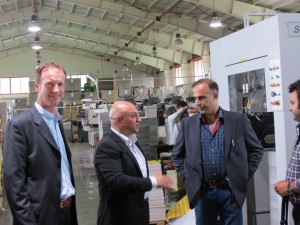 We expedited constructing the site considering the said letter for delivery time of the machine with addition cost to reach the exact schedule for installation with no delay. At the same time, we fulfilled all our commitments, which was based on our trust to Noortec Co, but unfortunately this trust cost us approx additional Euro 400,000.00.
According to official letter of Noortec and at the time of last part of advance payment equal to Euro 520,000.00, Noortec rejected to receive this part, which was based on the local contract. This manner of Noortec made us worry, and obliged us to follow up the contract directly through KBA.
Finally and after long time, Noortec pointed out to reasons for not fulfillment of KBA/Noortec commitments surprisingly.
By relying to baseless reasons, Noortec management tried to change both official and valid contract without any prior notice and acceptance.
In this letter he referred to extended restriction between Iran and Europe, which was absolutely baseless in that period, informed us just by receiving 50% of the contract's amount, manufacturing of the machine can be started, and three months before shipment, the purchaser has to be paid up to 75% as well as settle the balance one month prior to shipment.
Please note that this letter was sent 78 days after the previous letter (Dec 09th 2013), which Noortec officially informed that the machine is in manufacturing process and deliver before end of Jan 2013, which means less than two months before shipment confirmed in previous letter.
All of businessmen in Iran and Germany including you, are well aware and confirm that commercial /trading relation between Iran & Germany has not been changed since Drupa2012, as other companies and manufacturers in printing industry have been fulfill their commitments and export various equipments and systems to Iran easily. On the other hand, if such change in the contract was necessary, why KBA, as the main party, has not informed it officially to Andisheh Amol Co.?
It is remarkable that in this letter, previous confirmation for starting manufacturing and delivery time before end of Jan 2013 was ignored easily.
Due to wrong business manner of Noortec, there was no trust to them to fulfill their commitments in the local contract and we relied to KBA contract.
This caused to send you a brief report of what happened, and asked you, as the main party of our contract, to clear the latest situation of payments and how to continue the contract directly. But unfortunately in spite of many correspondences and telephone calls, you never considered to our request, which assumed that KBA has no interest to finish the contract, or you were obliged to receive Noortec permission for any clarification.
It was obvious that Andishe Co had right to know the latest situation of his payments as well as manufacturing situation, to enable for finishing the contract.
We do not want only to ask you following questions, but ask all members of printing industry in Iran and those one who read this letter in printing magazines and web sites:
-Do you trust to such manufacturer and his representative for any further cooperation and investment?
-Do you trust and cooperate to such manufacturer and his representative, which do not consider their customer's benefits?
-Do you think that such manufacturer and his representative have any right to be active in Iran, while they never consider to all loss imposed to their customer caused by their decision, and only care their benefits?